Scholarship for an outstanding foreign student of Computer Science and Information Systems awarded to Elif Ozdemir
On the 8th November 2018, during the Faculty Council,  the 4th Jelonek scholarship for the best undergraduate student – a non-EU citizen was awarded to Elif Ozdemir, a Turkish student of the Computer Science and Information Systems program at the Faculty of Mathematics and Information Science.
Every year such a scholarship is funded by  Jakub Jelonek, a former Computer Science student who graduated from our Faculty. The scholarship is awarded to the best 2nd or 3rd year Bachelor's degree student, who is a citizen of a non-EU country and who undertakes to continue his/her study at the Faculty.
In the first edition the scholarship was awarded to Ivan Matyazh from Russia, and the second awarded student was Daria Hubernatorova from Ukraine. Both of them currently continue their studies in the 2nd semester of Master's degree programs at our Faculty. Last year scholarship winner was Mikhail Urmich, a citizen of Uzbekistan, who is currently a 3rd year student of the Bachelor's degree program.
Now, a few words from this year scholarship winner, Elif Ozdemir: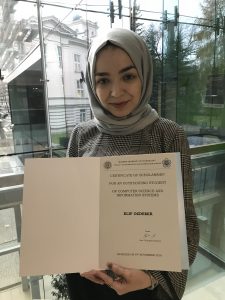 First of all, I'm grateful to MINI Faculty and to the founder of the scholarship. 1st year is an adaptation period and getting familiar with all the requirements of the university and professors, as you know. It's not simple at all if you come from another country, believe me. In my case all I was doing was trying to pass each subject. So you don't need to be a genius for it; a bit of persistence can do the job. I encourage all the first year students not to give up and do their best. Remember, there is no substitute for hard work.